An outdoor kitchen can save you from endless trips back and forth between the house and the grill for chicken and steak, salad ingredients, ketchup, mustard, drinks, plates, and glasses. Tack on a refrigerator, ice machine, and mobile beverage cart for a full-on entertainment oasis.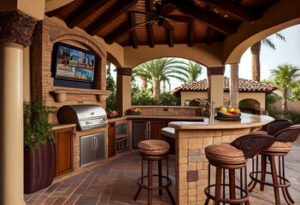 Choose a frame and countertops that can stand up to the elements. Ask your contractor to provide visuals to help you envision the finished product. Keep reading the article below to Learn More.
Whether you are a casual cook or a seasoned entertainer, outdoor kitchens are the ultimate culinary extension of your home. They allow you to savor the pleasure of cooking and eating with family and friends under bright skies and glistening stars. With these backyard culinary centers, you can flex your creative muscle and hone your grilling skills.
When planning an outdoor kitchen, consider your needs and the style you want to evoke. If your home is a traditional or contemporary dwelling, a sleek and minimalist design can suit both styles, with wood and metal elements blending seamlessly. If you love a rustic or country aesthetic, however, you may prefer the natural warmth of a slatted back splash and a wooden countertop. Stainless steel appliances and barstools also complement this aesthetic beautifully, evoking the feel of your favorite gastropub.
In addition to considering the style of your kitchen, you will need to scout out potential locations and assess the amount of space you have available. Mini outdoor kitchens (less than 10 linear feet) are the simplest option, with just enough room for a grill and some storage. If you have a bit more room, a medium-sized kitchen can offer a sink and combination storage for your appliances. For larger spaces, you can add a pizza oven, wine cooler, and pergola to create an entire outdoor "room" designed for entertaining.
Once you have a sense of how much space you can dedicate to your new kitchen, you can decide on its size and functionality. Regardless of your choice, it's always wise to hardwire lighting for the kitchen so you can enjoy the area long after the sun has set. You could even opt for a tiki-style lighting scheme to evoke a tropical escape.
Convenience
Cooking outdoors is a fun and exciting activity that brings the entire family together to bond over the aroma of grilling meat or seafood. It is also a more affordable alternative to eating out. When you have an outdoor kitchen, the entire process of cooking and dining is done at home which cuts down on expenses and eliminates having to deal with the stress of traffic and parking that comes with going out to eat.
The convenience of an outdoor kitchen allows you to host large parties and events, which can be a fun way to connect with friends and family. It also allows you to spend more time outdoors, which is important for your overall health and well-being. Spending more time in nature reduces stress and anxiety levels, and the fresh air helps improve your mood.
With a complete outdoor kitchen, you can prepare and serve cocktails and appetizers before dinner without having to go inside your home. You can also store basic condiments outside, eliminating the need to run back and forth from your indoor pantry. This allows you to spend more time with your guests and minimizes the amount of times you have to leave and enter your home, which can increase the flow of conversation and help your guests feel comfortable and at ease.
The best outdoor kitchen designs will make the most of your available space. It is critical that you work with a qualified professional to ensure that your space is designed to meet your unique needs. It is also important to consider the natural elements and landscape of your property when designing your outdoor kitchen. For example, if you live in an area that gets frequent wind, your design may need to be modified to account for this force.
Cooking
An outdoor kitchen can take your backyard barbecues to the next level. Not only will they provide a place for you and your family to cook together, but they also make it fun to try new cooking styles and techniques. You'll also enjoy eating meals outdoors instead of indoors, which can improve your health and well-being by encouraging more time spent in nature.
If you're planning to use your outdoor kitchen for cooking, consider installing a gas, propane, or electric stove or grill along with other appliances like ovens and griddles. It's also important to install countertops and prep space, so you have a place to work when prepping food or assembling dishes. Choose durable materials, such as granite or concrete, that can withstand heavy use and the elements.
You'll also want to include cabinets or shelving to store utensils, pots, pans, and other kitchen equipment. You can also add additional counter space with furniture pieces, such as a bar table or bar cart. It's a good idea to include task lighting, so you can see what you're doing while working in your outdoor kitchen.
If you plan to cook in your outdoor kitchen often, consider upgrading your electrical system with GFCI outlets and proper grounding. This will help reduce the risk of fires, injuries, and property damage caused by faulty wiring or unsafe equipment. It's also a good idea to perform regular inspections of your appliances, especially electric ones, to ensure they are in top condition.
Socializing
Cooking and dining outside is a great way to enjoy your backyard space. It also allows you to spend more time in nature, which offers many physical and mental health benefits. However, cooking outdoors can be a challenge if you don't have the right kitchen features. For example, if you don't have enough shade, the sun can be too harsh on your food. To avoid this, consider installing a shade structure that will provide some shelter from the sun throughout the day or night. Incorporate a pergola, awning or canopy into your outdoor kitchen to block harmful UV rays and provide an ideal space for dining and entertaining.
Another benefit of outdoor kitchens is that they offer a socializing area for homeowners and guests to hang out together while food is being prepared. This can be a lot of fun, especially when you have company over for dinner parties and barbecues. This can make the experience more exciting and memorable for everyone.
Additionally, having an outdoor kitchen means that savory cooking odors don't have to stay inside the home. This is helpful for those who have a sensitive nose or have to avoid certain foods due to allergies.
In addition to providing a more enjoyable socializing environment, having an outdoor kitchen can increase your resale value. Potential buyers will be intrigued by the idea of a kitchen that opens up into a sociable living area, and this feature can set your home apart from others on the market. If you're interested in designing an outdoor kitchen, contact us today to schedule a free consultation. One of our experienced designers will help you turn your dream into a reality!
Entertainment
An outdoor kitchen can turn your backyard into a fully-functional social gathering space. Guests can hover over the grill and watch the cook in action without being stuck in the cramped confines of an indoor kitchen. It also means less time spent in the house and more opportunities to take in fresh air – a boost to mental health and well-being.
Outdoor kitchens can be as simple or as extravagant as you want them to be. A mini outdoor kitchen consists of a grill, some storage and a small countertop; larger models can include a sink, refrigerator, ice machine and mobile beverage cart. Add in seating and a dining table or a bench and you have an outdoor entertainment area that can host large parties or intimate dinners.
While food is cooking, guests can hang out nearby to chat and help with prep work. Popular designs feature low seating away from the cooking zone, which helps separate the eating area from the cook zone. You can even include a bar and stools if you like to entertain in style!